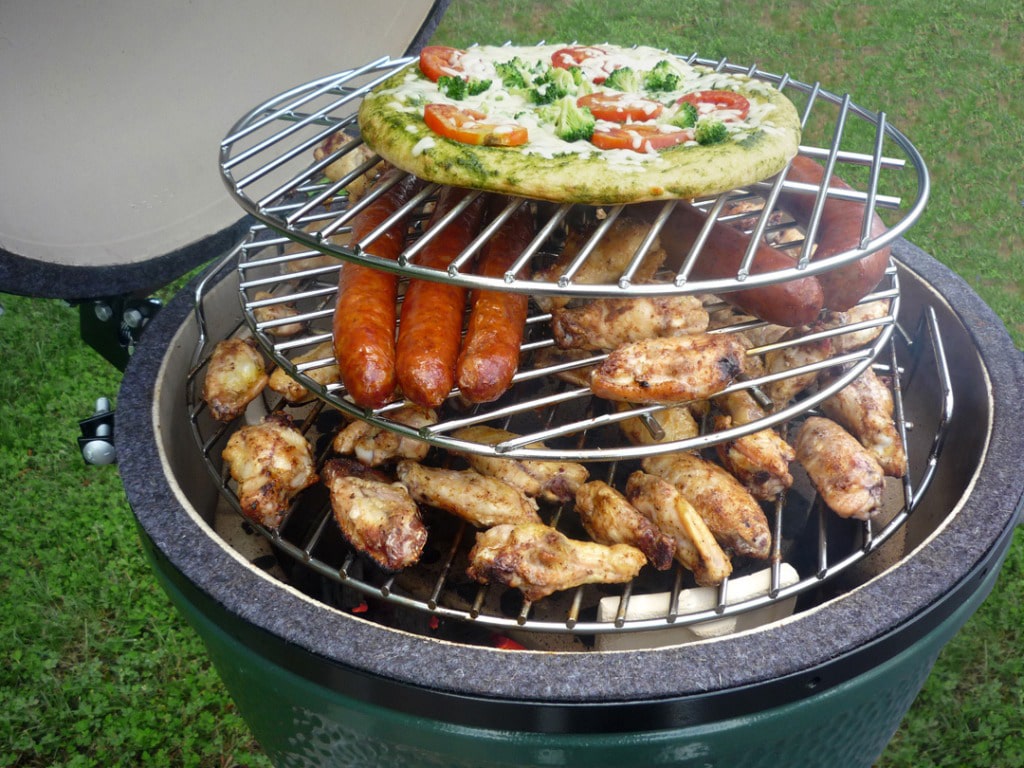 Canadians from coast to coast have been enjoying the Ultimate Cooking Experience for over ten years.
Regardless of the weather conditions the Big Green Egg is guaranteed to meet your expectations and provide meals for a lifetime. All Big Green Eggs and accessories are stocked in Canada and carry a Canadian service warranty. The Big Green Egg can be found at specialty shops in every province. Big Green Egg dealers love to demonstrate the benefits and features of the BGE. If you are concerned with environmental issues, efficiency and reliability the Big Green Egg is a "must have".
The Big Green Egg offers unmatched cooking flexibility – the EGG® is a grill, a smoker and an oven.
Space-age ceramics and double-wall construction make the Big Green Egg durable and fuel efficient.
BGE Organic Natural lump charcoal gives your food amazing flavor.
Choice of six sizes to accommodate everyone's needs.
Over 35 year history of dependable customer service makes it easy to get answers to your questions.
Our helpful website provides recipes, cooking tips and an active user's forum.
With a lifetime warranty on ceramic parts, the EGG won't clog the waste stream like metal grills that are discarded after a few years. Ceramics won't rust like metal grills.
With the use of the Plate Setter, you can cook "indirect" without sacrificing cooking space.
Dozens of EGGcessories designed especially for the Big Green Egg make your cooking even more foolproof. Specialty grids and extended racks offer great versatility. Double or triple the capacity with a grill extender.
You can cook in the EGG year around, even in rain or freezing temperatures.
Low, even temperature ensures moist, "Pit BBQ-tender" smoked foods.
The Big Green Egg cooks hotter and produces steakhouse searing temperature with ease. Meat, fish, poultry, veggies & fruit – the EGG does them all effortlessly.
Bakes better than a brick oven – pizza, bread and even desserts.
The ceramic surface stays cooler than other grills, so it is safer around children and pets.
The EGG is ready for you to start cooking in minutes with no lighter fluid used.
The EGG maintains precise temperature to within a few degrees simply by adjusting the top and bottom vents.
The radiant heat from all surfaces guarantees exceptional results.
The baked on exterior glaze maintains its good looks and readily wipes clean with a damp cloth. Cleanup is effortless; the EGG cleans itself like a self-cleaning oven.
Lump charcoal produces little ash, eliminating the need to empty out ash after each barbecue.
You can cook for hours without adding more charcoal. Unburned charcoal can be saved for the next cookout simply by closing the vents to snuff out the fire, saving you money!
Welcome to the Big Green Egg, the Original American Designed Ceramic Cooker. The Big Green Egg has rewarded its owners with amazing results since 1974. This catalog will introduce you to this "EGGstraordinary" product, its advantages, and to what some "EGGheads" (dedicated owners of the Big Green Egg) have to say about the EGG®.
Complete Outdoor Cooker
With its unparalleled flexibility of use, you can use your Big Green Egg for everything from grilling a steak to slow cooking a tender brisket to baking a loaf of bread. Vegetables – corn, potatoes, mushrooms, onions – and even desserts are superb. You can cook everything that you need for an entire meal at once!
Moisture Retention
The Big Green Egg is made using spaceage ceramics that were developed specifically for our product. The EGG retains heat and moisture so well that foods do not dry out! Meats and other foods undergo little or no shrinkage and are tastier because the natural juices and flavors stay locked inside.
Easy to Start
The Big Green Egg reaches cooking temperature and is ready to use in approximately 10 minutes. Lighting the natural lump charcoal is quick using a natural fire starter or an electric lighter; no lighter fluid should be used. The inventive design of the EGG draws air into the lower draft door, through the charcoal, and out of the damper top.
Easy Temperature Control
You can grill, smoke and bake at exact temperatures by adjusting the dampers. You have total control over the temperature, maintaining accuracy within a few degrees! The temperature North American made gauge in the lid gives precise temperature readings from 0ºF to 750ºF +.
Easy Clean Up
The Big Green Egg® exterior has a lifetime baked-on glaze that maintains its good looks and easily wipes clean. Inside, the heat burns off any grease build-up – like a self-cleaning oven.
Year–Round Use
The Big Green Egg is easy to use in all climates, even in freezing temperatures, snow or rain.
5 EGG options to choose from:
 – XXL 424 lbs – 29″ grid size with a cooking area of 672 in²
 – XLarge 219 lbs – 24" grid with a cooking area of 452 in²
 – Large 162 lbs – 18.25" grid with a cooking area of 262 in² 
 – Medium 114 lbs – 15" grid with a cooking area of 133 in²
 – Small 80 lbs – 13" grid with a cooking area of 117 in²
– Mini Max 76 lbs – 13" grid with a cooking area of 117 in²
– Mini 39 lbs – 10" grid with a cooking area of 79 in² 
Precisely molded ceramics bonded with a green, nontoxic glazed exterior remains beautiful for years
---
Hinged band for easy one-hand opening and closing
---
 Non-jamming, stainless steel draft door with a mesh screen that minimizes the potential for burns from stray sparks
---
 Cushioned gaskets for improved insulation and seal
---
---
 Dual function metal top for precise temperature control
---
 Precision external temperature gauge
The Big Green Egg® was introduced in 1974 and has earned its reputation as the World's Best Smoker and Grill. Since then, we have become the world's largest producer and international distributor of ceramic kamado style cookers. Your Big Green Egg investment is protected by a company with over 35 years of experience and a reputation for excellent customer service. Imitations have come and gone, but the Big Green Egg is the original. Look for the Big Green Egg logo molded into the lid!
The Big Green Egg is the most unique barbecue product on the market with more smoker and grill capabilities than all other conventional cookers combined.
Smoker
The ceramic double-wall construction of the Big Green Egg makes it a superior smoker. Precisely controlled smoking temperatures give succulent results with turkey, ham, lamb, chicken, ribs and all other barbecued meat.
Grill
You can sear steaks, hamburgers, pork chops, fish and seafood, resulting in a flavor-packed crust unmatched by other grills. High temperature grilling – even at 750ºF – is quick and easy!
Oven
The Big Green Egg bakes bread, biscuits, pizza, muffins, cookies, cakes and even pies better and quicker than your kitchen oven! You'll get a "brick oven" flavor and crust. You must try this to believe it! It's actually hard to burn foods or ruin a cookout in the Big Green Egg. The EGG® is, very forgiving – good news for beginners.
Cooking in the Big Green Egg is easy – even your mistakes taste better than your successes cooked on an ordinary grill!
 Ready to cook in 10 minutes with no lighter fluid
 Ceramic walls retain heat with accurate temperature control and no hot spots
 There is no need to add more charcoal while cooking; unburned charcoal can be reused
 No constant tending required; with enclosed cooking there are no grease flare-ups
 The Big Green Egg withstands temperature extremes from below 0ºF to 1800ºF
 Can be used year-round, even in freezing temperatures and rain
 Surface stays cooler than metal grills and is safer around children
 Weatherproof ceramics won't rust like metal
 Handsome, decorative and unique design
---
Better than Water Smokers
A water smoker is made of metal and requires a pan of water to keep foods from drying out. Water smokers are very slow, taking up to 12 hours to smoke a turkey or ham. It is difficult to maintain temperatures, on a cold or blustery day they become inefficient. The Big Green Egg®:
 Cooks your ham or turkey to perfection in just a few hours
 Minimizes drying heat loss; your foods retain their moisture
 Dispenses with the need for messy water pans and frequent refilling
 Makes cleanup a breeze; there is no greasy mess
 Uses very little charcoal and produces very little ash
---
Better than Gas Grills
The Big Green Egg offers the best of both charcoal and gas grilling options – fast start time and charcoal flavor. The Big Green Egg:
 Fires up in 10 minutes
 Cooks juicier, more succulent foods
 Allows you to grill meats rare, medium, well done, or anything in between
 Cooking time is faster than on a gas grill
 Reaches a hotter searing temperature than ordinary gas grills
---
Better than Kettle Grills
Kettle grills rarely cook evenly and they tend to have hot spots. The Big Green Egg:
 Retains, circulates and radiates heat evenly for perfectly cooked meals
 The EGG® holds the heat – the kettle loses heat, especially in cold or windy weather
 The Big Green Egg keeps food moist – the kettle dries food out
 The Big Green Egg is Number 1!
---
More are sold each year than all other ceramic  style cookers combined.
 There are more Big Green Egg dealers in the US and abroad than dealers for all other kamado syle cookers combined! If you move, it will be very convenient to locate a local dealer.
 It is estimated that seven out of ten kamado style cookers in use today are a Big Green Egg product.
Artisan Hardwood Tables

Tier Racks

Better than Kettle Grills
Hearthstone House of Fire
Get free consultation and assist in selecting the best product for your application.